10 Days After iPhone 5S and 5C launch Apple claims 40% of U.S. Smartphone Market
This is at least according to the latest data from comScore. Over-all, Apple's quarterly gain is up 0.7% from 39.9% in Q3 to 40.6% in Q4. Android Market share only declined by .2%, while the other OS's in the market don't even represent 8% of the market cumulatively. Together Android and Apple account for 92.4% of the market, leaving 7.9% taken by: Blackberry (3.8%), Microsoft (3.3%) and Symbian (0.3%).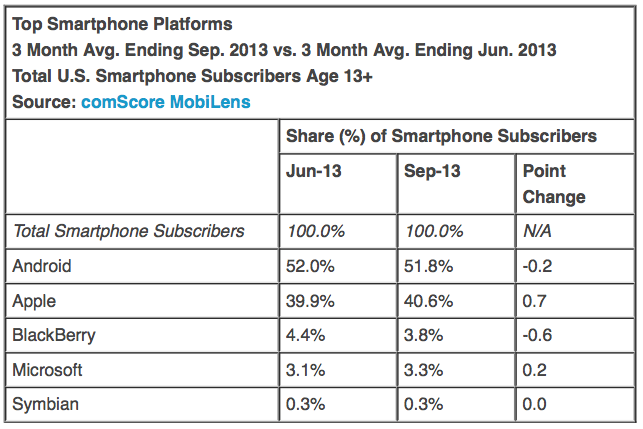 When it comes to OEM's Apple still leads the pack with 40.6% market share up from 39.9% in Q3. Samsung roughly 15% behind at 24.9% up from 23.7% in Q3. While HTC and Motorola saw declines in usage from 8.5% to 7.1%, and 7.2% to 6.8%, respectively. LG held its ground at 6.6% for both Q3 and Q4.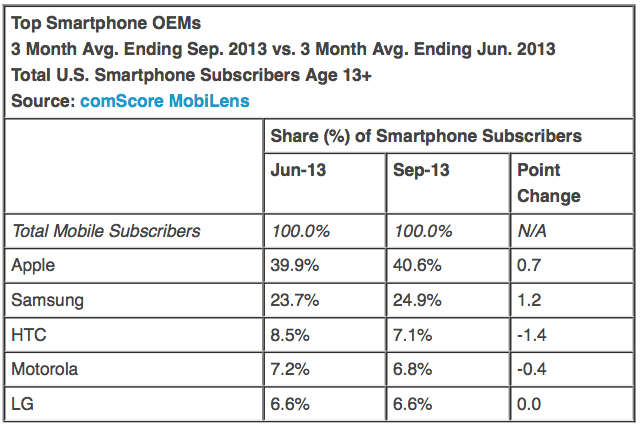 Looking at the global smartphone market, Cellular News has reported 44% growth this year, with Apple and Samsung still owning the market as the most popular handsets with 15% and 34% market share, respectively. This is again, Global.
The fastest growing countries this year were mostly in the Asian markets including: China, Hong Kong, and Taiwan.
Research Director Nicole Penge had this to say,
"There is an interesting disparity among the leading vendors across the regions.
"Samsung was the leading vendor across all regions except North America, where Apple held the top spot. The vendors account for almost 70% of the market there."