Christmas App Stats 2013
I almost didn't feel like posting this this year because I don't see it as that insightful to developers.  I mean, sure it's great to know how the App Store is performing in terms of the spikes that historically occur over Christmas up until the New Years, but the truth is – this time around, it wasn't as dramatic as it has been in the past.  Thanks to the folks at Flurry for sharing the stats with us.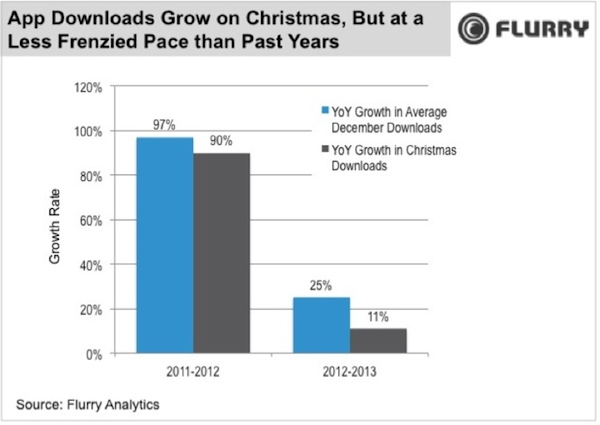 As seen in the chart above the growth rate from 2012-2013 compared to 2011-2013 is substantially less.  A mere 25% YOY Growth in Average December Downloads and 11% YOY Growth in Christmas downloads, compared to 97% and 90% respectively.
We can also deduce from the chart below that 2013 took a bit of a hit in terms of 'Spiking' for downloads.  While 2011, and 2012 weren't that different it's quite evident below.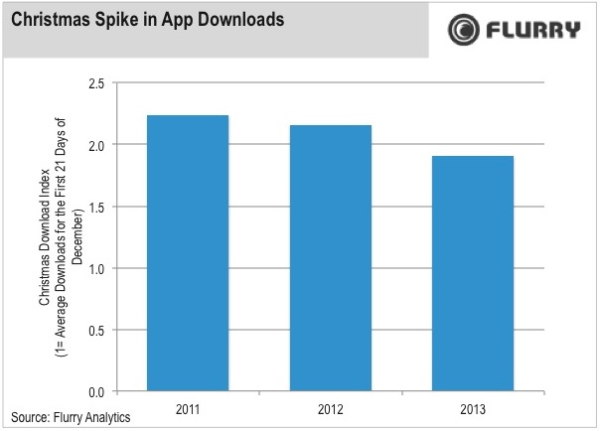 Indeed the most popular apps this year around (again) were: Games.  Followed close behind by Social, Media, and Lifestyle apps.