Consumer Willingness to Engage with Ads for Free Content
This is always an interesting thing to look at. At which point do people succumb to incentivization? Well, according to a new chart from Tapjoy & Yankee Group the breakdown goes like this:
Below is the percentage of mobile device owners willing to engage with advertising to receive free content.
Tablet App, 77%
Paperback book, 75%
MP3 download, 73%
Tablet app upgrade, 73%
Coffee, 71%
Smartphone app, 70%
Smartphone app upgrade, 67%
Newspaper, 66%
After-all, who pays for things these days when you can just be solicited to? The stats above, as well as the image below make it more than evident that this is the case for most people.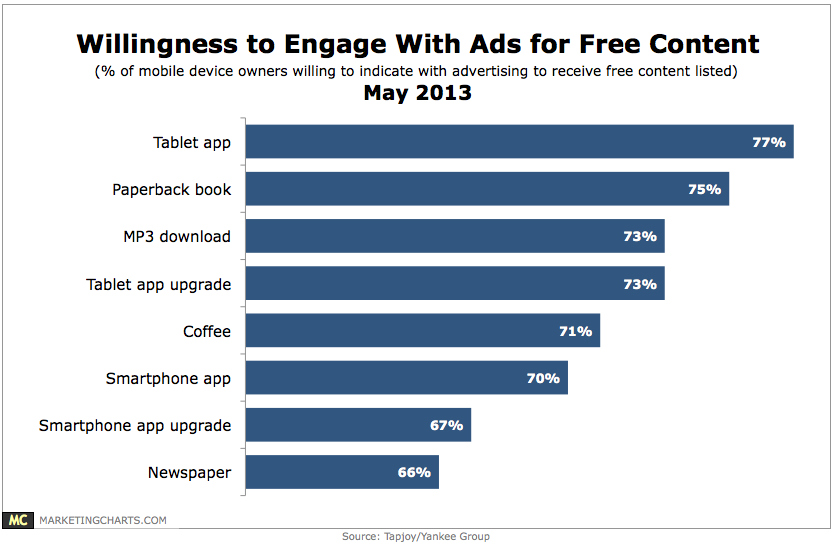 While a higher percentage of smartphone and tablet owners would rather engage with advertising for free apps and upgrades than pay for that content, I'm not saying people aren't COMPLETELY unwilling to pay.
Actually..
56% of tablet owners said they would pay between $0.99 and $2.99 for an app.
46% would pay that much for an upgrade within an app.
Smartphone owners however, are a little more conservative when it comes to paying for content. 41% and 39%, respectively.
Overall, 63% of smartphone owners and 64% of tablet owners report having paid for an app.