Cost of User Acquisition Exceeds Revenue Generated From Users – "uh oh."
New York based market research company, SuperData has released data that estimates the cost per install (CPI) for mobile gamers was $2.73, compared to an average revenue per user of $1.96. In the coming holidays SuperData also expects these acquisition estimates will double the average revenue per users (ARPU).
Ouch.
In addition to this, SuperData was quoted to say the following:
"To anyone active in mobile gaming, it is no surprise that the cost of acquiring new users has been going up," the company said. "Over the course of 2012, the cost per install on iOS increased 22 percent from the beginning to the end of the year. In some categories, we even recorded a tripling of the cost for an average mobile gamer."
Needless to say, marketing costs naturally increase when markets mature, however during the summer the average CPI broke the $2 barrier, and it's been growing ever since. While the first couple of Quarters for 2013 looked ok, (as far as CPI being on par with user generated revenue), things quickly began to change in the late summer.
As seen in the image below, CPI's and ARPU's are almost going in opposite directions now, and that means that Developers need to find more creative means of marketing, getting installs, and launching their app into the app store with a BANG, to increase their likelihood of survival.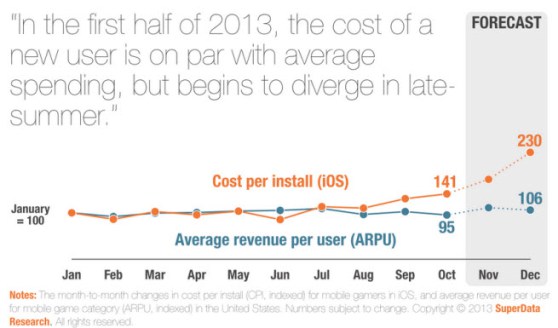 In my book the App Launch Blueprint, I talk about how to do this, but then again.. some people would rather way to 'see how things are going' rather than take action when they know they should to save their ass-ets.
At the end of the day, what this data is really telling us this: The cost to mine the gold has exceeded the value of the gold itself.  How else might one capitalize on this rush before it comes to the point where things start to really consolidate and mature?  That's for you to find out.  If it were me, I would take into account the fact that just because the app ecosystem is what it is, doesn't mean you can't monetize outside of it.  Take a look at Disney, most of their apps are co-created to help boost a part of their brand outside of the App Ecosystem.  With that, think about it.