How Bad Is Android Fragmentation? This Bad.
As Ricardo Bilton at over at VB said earlier today,
"The latest data is in, and Android fragmentation is worse than ever."
I couldn't agree more. Thanks to the folks at OpenSignal who have gathered data from over 680,000 devices that downloaded their app last year, OpenSignal found that 11,868 were completely distinct. This is a HUGE increase from last years 3,997 unique devices.
Let's take a look at the information in visual format, shall we?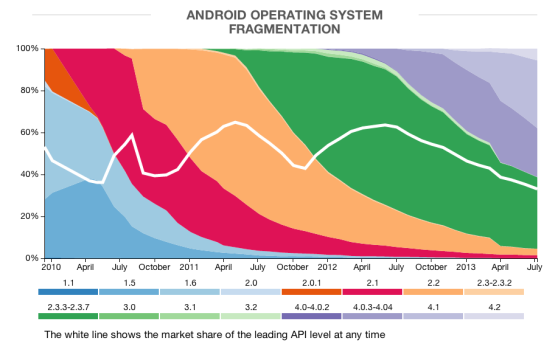 When it comes to OS (Operating System) it's evident that Gingerbread still leads the way with 34.1% share, while Jelly Bean is in close 2nd with 32.3% and ICS (ice cream sandwhich) in 3rd with 23.3%.
Obviously, when comparing to iOS there is none. iOS 6 has 95% and iOS 5 has near 5%.