Optimizing Your App Marketing
A couple days ago one of my more favorable author's Chad Mureta did a guest post for App Annie. The topic was, "How to Optimize Your App Marketing". Certainly, there are many perspectives on the subject but I think Chad does a pretty good job at describing all the things YOU SHOULD KNOW. With that being said, I thought I'd spare you the trouble of having to read the whole thing, and just give you the juicy parts.
Enjoy.
Things are and have been moving away from vanity metrics (like downloads) for some time. Developers are encouraged to TEST their marketing as much as possible as this will aid you (them) in getting the data they need as quickly as possible. This data can then be used to tweak and optimize monetization, marketing, and conversions.
The Essentials of App Marketing
Rarely is an app launched as optimized as it could be. This is a given as their are a multitude of different variables that are considered by the App Store (iOS or Google Play) of the features in your app.
Similar to how in SEO there are two ways to optimize your website or webpage, Chad encourages developers to pay attention and place their efforts in two different kinds of marketing: External and Internal.
External Marketing:
These are the elements located outside of your app such as: screenshots, icon image, and descriptions. In the app world (ecosystem) you have an incredibly short amount of time (3 seconds) to have your app "sell itself" to a prospective user. This is WHY Screenshots, Icon Images, and Description are vitally important to spend some time on on making them as good as possible.
To illustrate the point, a simple icon change can cause your downloads to spike or even increase sales. In the case of one of Chad's students, by doing just that they went from ranking at #433 to #69.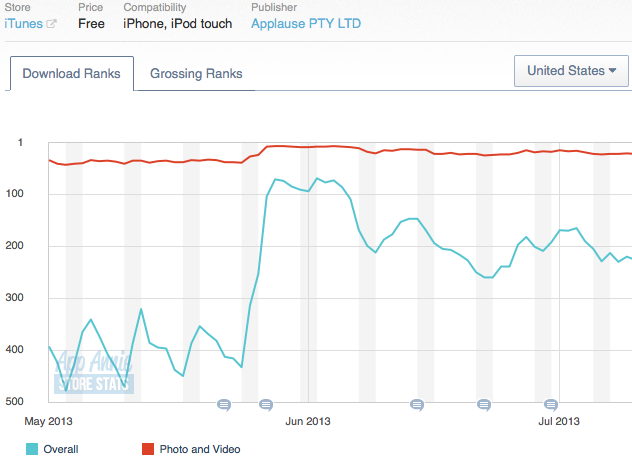 Here's a look at the icon:

It's important to note that they were able to achieve this optimized result through their testing. If they had never made the effort to test in the first place, then clearly they would have never arrived at this conclusion. So, don't be afraid if you didn't "get it right" the first time, just keep tweaking it and you'll be good to go.
Internal Marketing:
If only things stopped after the user had been acquired. Unfortunately, that is simply not the case. Once you have successfully landed the art of acquiring users, now you have to retain them. This is where: copy on nag screens, ads, titles, graphics, and other internal funnels comes in.
It's critically important to your ability to actually monetize to test different variations of internal copy and graphics. This is especially true now given the rise of the freemium model where ad revenue and IAP's (in-app purchases) can be drastically affected.

For the image above, adding:
"Try This Treat" text for the bonus button, resulted in a 25% increase in click throughs.
It's important to realize that internal marketing has more to do with navigating your users through your app as a funnel and understanding the psychology of what will make them want to buy, and when.
If you're not sure where to start in this process, then take a look at some of the Top Grossing Apps. Success leaves clues.
Optimization through A/B Testing
A/B (split) testing is a great way to test things quickly, and precisely. If a change creates a positive impact, you'll know its because of that change and nothing else. Unfortunately, given the nature of the app store this is not always the easiest thing to do – but can be done.
Here are the things you should consider..
1) Test one element at a time
Changing multiple things at once will create the opposite effect of you knowing WHAT exactly causes a lift or decline in downloads or engagement. With that being said, it's important to change one thing at a time. App Annie is a great tool to track all of this.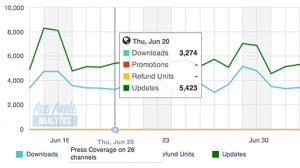 2) Focus on External Marketing First
If you can't create a visually compelling app that people will want to download in the first place then the rest doesn't mean anything. Make sure you DO YOUR BEST on having THE BEST possible: icon image, screenshots, and descriptions. With Apple's latest iOS 7 update it should be evident that you may want to reskin your icon image, screenshots, and otherwise to match the forthcoming UI.
After you have this taken care of you can then move on to internal marketing. Internal marketing optimization will of course require additional testing, but this testing is what will truly result in the difference of how much you're able to monetize on any given day, or if you're even monetizing at-all.
3) Establish Your Market Before Build More Features
In my book, I emphasize the importance of culture and community building. This is something every developer or otherwise should take into consideration if they want to not only obtain users, but also retain them.
4) Test, Measure and Repeat
Testing has less to do with making the changes described above as much as it does with doing so so you can learn use behavior. Understanding the psychology of your users is what will really allow you to maximize your monetization efforts, but needless to say – you can't do that without doing the things mentioned above.
If you feel inclined to read the full article you can do so here.