Shopping Tops Out on Thanksgiving vs BlackFriday
With all the craze this year with endless Black Friday deals, you'd be surprised to discover that Thanksgiving actually had more shoppers purchasing things via their mobile device than on Black Friday itself. According to IBM and Flurry, Black Friday mobile shopping was responsible for 20% of online retail sales.
On Thanksgiving day, sales spiked to 43% of visits and accounted for 26% of sales. This goes to show how connected devices are really influencing sales. Even to the degree where it's become a holiday tradition.
But enough with the talk, let's take a look at some chars so you can get a better visual understanding of what exactly went down on Turkey day.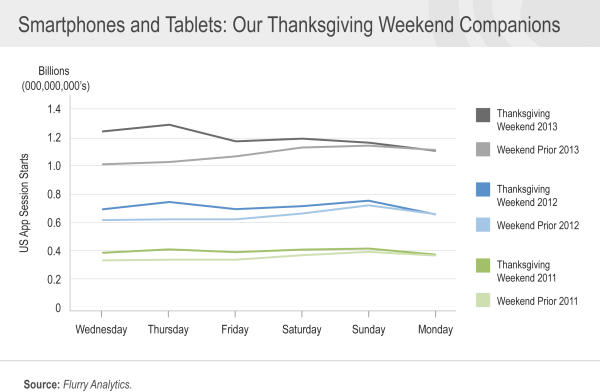 In the image above it is evident that the bump in usage comes dead in the center of Thanksgiving and quickly declines thereafter.
Comparitively, over the years this change in traffic has been getting more and more evident.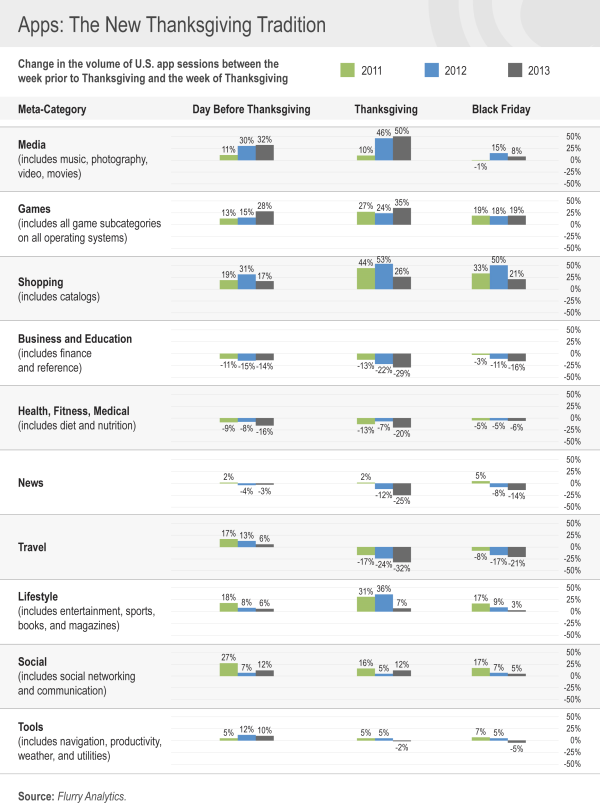 Looking at the image above, you can see just how much Thanksgiving kicked Black Friday's ass in terms of app sessions and purchases.
In Other News..
App Annie has released a new mobile app for Google Play that allows you to track your campaigns that you have on the platform to see what's happening on the go.  Find out more here.