Smartphones Outship Feature Phones this Quarter for the First Time
Although, I have to say. I would have expected this to happen sooner.  But then again – compared to how long feature phones have been around vs how long smartphones have been around, it all still happened rather quickly.
According to NPD DisplaySearch, by 2017 82% of the phone market will be held by Smartphones. This represents more than 1.8Billion shipments between now and then. 30% of these devices will be sold in China, and according to Tina Teng, an analyst at NPD:
"Smartphone market growth is being fueled by entry-level smartphones from international brands and white-box vendors in emerging markets,"
and
"We expect aggressive pricing moves to continue, prompting first-time smartphone buyers to upgrade earlier."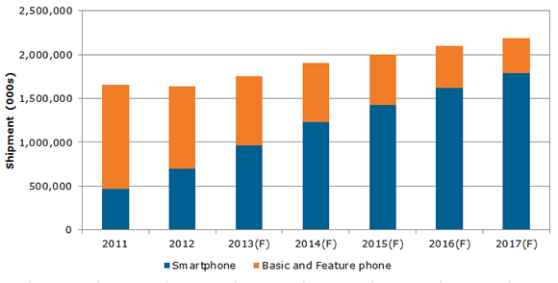 Needless to say, with this type of growth and these types of numbers it would appear that the Smartphone Market is one to be in – HOWEVER, what's not to say that wearable devices will disrupt these predictions from coming to fruition?
It's tech. That means there's no reason why they couldn't. But hey, let's see what happens.
At the end of the day, the biggest untapped markets for Smartphones, (and soon to be wearable devices) will be in the Asian markets, so it would make sense to just make most of what's appealing to them.