The Most Gifted Devices of Christmas 2013
It goes without saying that over the last decade connected devices have become an integral part of Christmas. Certainly one of the most 'wished for' gifts, Christmas also serves as the biggest day for new device activations. Indeed, activation's are known to spike 63% compared to an average day in the first 3 weeks of December.
Interestingly, the device with the highest bump this year was not from an Apple device (the iPad) but rather from Amazon. There infamous Kindle activation's were up 24x above the norm.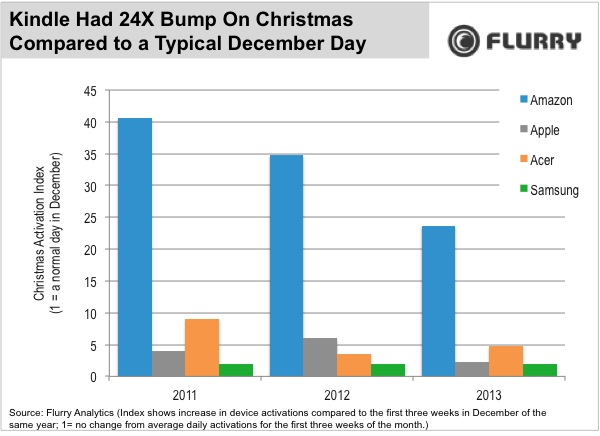 App Analytics company Flurry believes that price, business model, target market, and form factor all contribute to the big boost in Kindle activation's at Christmas relative to other times of the year. Seeing as Amazon sells Kindle tablets at cost, putting them within the Christmas budgets of more people than some other devices.
Amazon's business model is focused on content consumption and the promotion of their large spread of digital content which is the main reason why Amazon is willing to sell their tablets at a loss.That same retail business model means that Amazon is top of mind for many consumers during the holiday season, giving it lots of opportunity to promote its tablets as Christmas gifts.
Kindle's new Mayday button for instance makes it a particularly good gift for mobile newbies, and Amazon's mass-market reach makes it available to those people.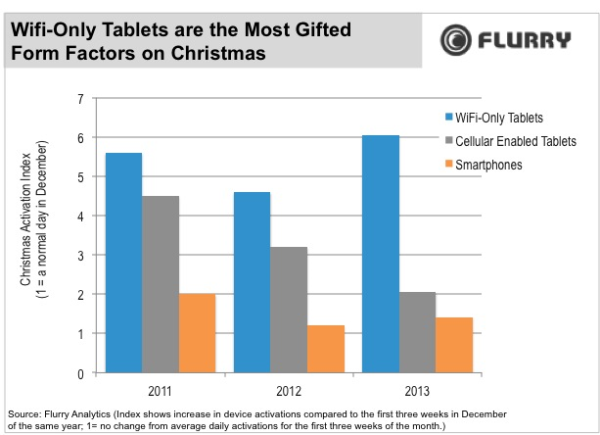 As seen in the image above, when it comes to what 'kinds' of tablets were gifted, it appears that WiFi-Only enabled tablets take the cake on a near 3:1 basis followed by, cellular enabled tablets.